What should design cost? Years ago I hired a general contractor to do some major construction work on our house. This person was a close friend of mine, so I knew that I would get a fair price, which I certainly did. As the project became more of a reality, price and turnaround time was inevitably brought up by yours truly. Their answer at first seemed like a salty way of answering my question, but as I let it sink in it made a lot of sense. It's something that sticks with me to this day regarding most decisions I make as a business owner, father, and husband.
The "Project Management Triangle".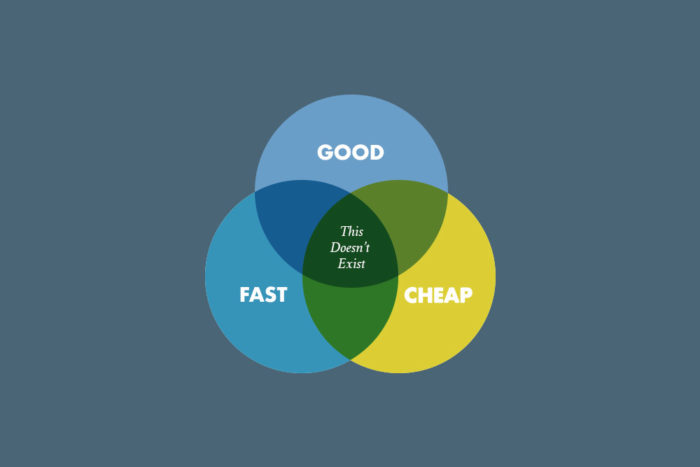 There are various ways of showing this "Triangle" but the idea itself is simple. There are three metrics in order from left to right; "Good", "Fast" and "Cheap". You can choose to select no more than two of these. As my general contractor friend told me at the time, "you can have it Fast and Good, but it won't be Cheap", or "you can have it Fast and Cheap, but it won't be Good." Harsh? Yes. True? Very. This concept is something that relates extremely well to design firms and agencies everywhere.
There are surely some exceptions to this rule, but they are rare instances indeed.
So this brings us back to the original question posed – "What should design cost"?
Well, for one we need to look at the triangle. From the client's perspective, do they want it good and economical? If that is the case then it may take some time to work through. Good and fast? Well, it will most likely cost more. This is the first thing to consider when trying to answer the question of how much design should cost. Another determining factor in price is how the business is organized. Is the designer a sole operator working from home, or is it a design business consisting of multiple designers and talent at the ready? There is no question that working from home and being the sole designer that it should cost less to operate. So this oftentimes means, freelancers and individual designers cost less. Not that their time is not worth as much as another designer, but that their overhead and costs of practicing their crafts usually cost less than an established business with multiple employees. The equipment and talent needed to operate along with the many miscellaneous costs of running the business will most certainly affect the total cost of the project.
Considering this, our takeaway might be that hiring a freelancer might be the best approach, right? Not necessarily. This is because we must consider the quality of work and concepts as well. I'm sure you have heard of the phrase that "two heads are better than one"? I have worked extremely hard as a designer myself to hire other creatives that bring unique qualities and perspectives to the company, and that approach to designing and solving creative problems results in fresh concepts and unique ideas. Having worked as a freelancer for many years, I can absolutely attest to the fact that design- ing alone comes with a cost. The professionals we hire are well educated and trained to practice their trade and have experience in different facets of the design/advertising/marketing world to back it up. They, as all trained experts, are valuable assets worthy of a decent wage. They also all live locally meaning that they eat, live, shop, work and in doing so, support the same community they serve.
"But hey…I can go online and get a logo for 75 bucks!"
Indeed true. However, lets consider how that process works. A client proposes a project through said website, and because of how these online design marketplaces work, as many as 20 or 30 designers compete for the job by submitting fully finished designs, but there's a catch. Only the selected design is paid for, and the other designers are, to be frank, S.O.L. We could consider this "the survival of the fittest" or "supply vs demand", but as a designer, I see this as detestable. Not only for the many designers who lost out, but even for the "winning" designer who most likely sold themselves short. Think about this, as of 2018, the national median income across all professions was $62,175.00. I know many, many, who fall well under this threshold. Be that as it may, at $75 per logo, a designer would have to crank out 815 unique logo designs (and win) just to meet that average. Is this even possible? Not even close. What about half that? At 30K per year this equates to nearly 400 unique logo designs, which is still very unrealistic. This practice is not sustainable and dramatically impacts the creative world in a very bad way; ideas suffer, small business' suffer, and ultimately people suffer.
So, how much should design cost? It's a complicated and complex question that varies from region to region. Given the 15 years of my personal experience in design and marketing, I've seen as little as $40.00 per hour for a freelancer cutting their teeth, and as much as $150.00 per hour for a larger agency. Generally speaking, our company bills out $90.00 per hour, but we do a large portion of our work on a fixed fee schedule, and the client knows exactly what they will pay, which means its up to us to make or break on the project.
There are many, many, other factors that go into how much design and marketing should cost, but these are a few key things to consider. Quality work costs more than the average, and designers are worth more than 75 bucks for a design.